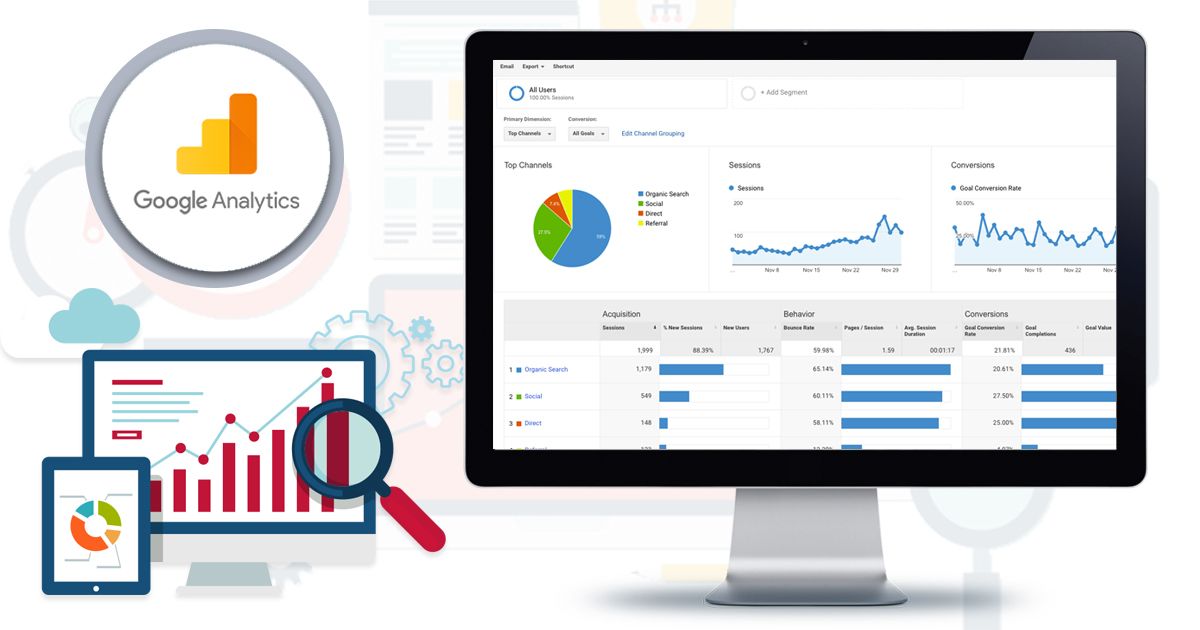 Want to check website traffic. Who visits your website? Check Google Analytics tool.
For a business growth and relevant traffic on the website is key to success for your business these days. Having knowledge about your business and what kind of users are visiting your website needs to be analyzed for your business to succeed in terms of customers and traffic. To keep track of your business you can use Google products. Google has produced a number of products since its inception and one of it is Google Analytics tool. Which is used to analyze your website in sorts of way and to know more about your business? Making it easy for business owners to know about their business.
Know How Google Analytics Helps to Boost Your Business
How to get started with the Google Analytics tool and features related.
Google Analytics tool is used for analysis of your website and helps you in understanding your business related issues or business related growth. To start with Google analytics needs to read your website and then it will give you results. For this, you need to create a Google Analytics account and then generate a code that is gtag. Which you need to insert it inside the head section of your website. If your header is different for different pages then you need to paste the code in all pages head section. If your website is word press then the header of pages will be mostly same but your word press admin panel will ask you for number value code which is also available in the same panel where you generate your gtag code insert it and you see the results.
After these steps then you can see the results in the Google analytics tool dashboard. For Improvements, you can go through all kinds of options given on the dashboard for your website performance.
What kind of result does Google analytics tool provide to website owners?
Google analytics tool is an advanced tool provided by Google to analyze any kind of website. From small business to large anybody can use Google analytics because it has very user-friendly dashboards. Google analytics provides you with real-time, Audience, Acquisition, Behaviour, conversions. Which makes you recognize the details related to your business. Helps to find you where your business is going wrong and changes you need to do in order to improve that problems or issues.
What kind of detailed reports does Google analytics tool give you to?
From the inception of Google has provided its user with numerous products and services. Google is a search engine and if your presence on Google has no existence. Then there is no scope for your business that will work for a long time. In order to show your presence on the internet and on Google then you need to Quality work according to Google. How do you find quality work on Google the answer is Google analytics which shows detailed improvement. For your business according to Google as well as what your customers need from your business. Detailed analysis can be done on Google using the Google analytics web tool for desktop and for the mobile view you need to download the mobile app. Real-time to Conversion rate is been shown in the Google Analytics tool. A brief history of your business is provided on Google analytics.
Google provides all its services and products in order to bring quality traffic on the internet. So as quality results will be provided to users for which the users have to come to internet. Google will promote your business if it finds Quality work on your website. For quality work, you need to check your Google analytics tool on a regular basis and act on it as per the Google analytics. The working internet is quite good. So whenever you launch any website to insert the Google Analytics code for your better quality improvement and engagement of customer to your business.
Keywords: Google Analytics Tool, Google Analytics, Google Analytics for Beginners
All Comments