Scope Analysis
At the first stage of work, we develop a work plan that includes all the phases of the mobile app development lifecycle. This includes all the features and functionality that need to go in for your app.
Task Planning
Our mobile app designers put together the best project strategies that meet audience expectations right from project milestones to testing and delivery.
Development
We work through agile mobile app development through communication and collaboration whilst delivering greater business values in a efficient manner.
Testing
At the end of the development phase, our team of experienced testers create robust testing scenarios for development, usability, and quality.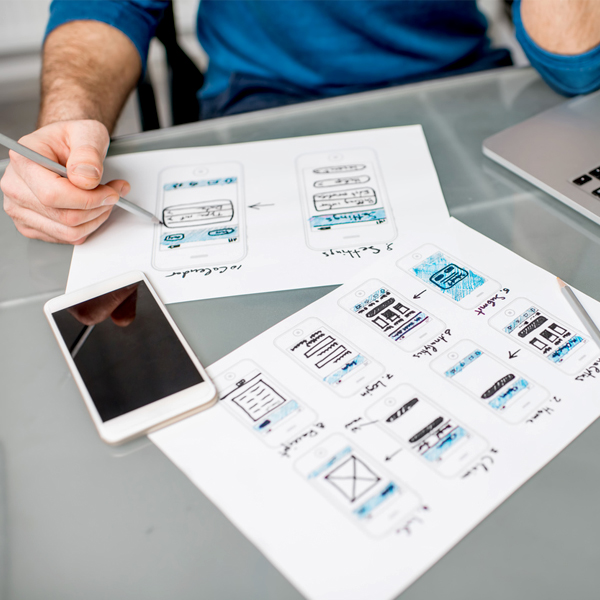 Building Outstanding Mobile Solutions
For Focused On Precision And Usability
We use our experience and skills to make mobile app design exceptional for users. Our creations work exceptionally well for multiple platforms - be it iOS or Android. We're in a constant state of innovation for businesses to flourish across the mobile landscape. With users at the heart of our design strategy, we are an app development agency that makes smarter technology accessible for all.
Complete Application Design For A Brilliant Mobile Experience.
As a mobile app design company, we design and develop top-of-the-line mobile apps that work best on android, iOS, Hybrid, and Cross-Platform applications. With Digital Marketing StudioGenix, you do get a team of highly skilled designers and developers who work on dedicated timelines and deliver guaranteed app designs that stay top-rated in the Marketplace and Appstore.
Powerful Business Technology
Made For The Mobile!
Performance And Scalability At The Heart Of Mobile Development For Android And Ios
Through experience and research, we understand that app design and development are vital for your brand and target audience. We are a mobile app development company in India that turns digital visions to reality through stunning designs and an amazing user experience. At DMS, we believe in enterprise-grade development combined with superior design and functionality for clients from multiple business verticals and sectors.
Your First And Only Choice For Mobile App Design In India
Great work for website design, logo design, and overall branding of my business. Thanks for all your help and good communication Highly recommended.
Today I have got clarity on what can be done and what should be done on Social Media and How Social Media Will Help To Grow Your Business. This would happen due to the attention and quality service provided by the Digital Marketing StudioGenix.
Contact Us
Let's Start
Conversation
Get in touch and let us know how we can help. Fill out the form and we'll be in touch as soon as possible.
Blog
Read Our
Latest News