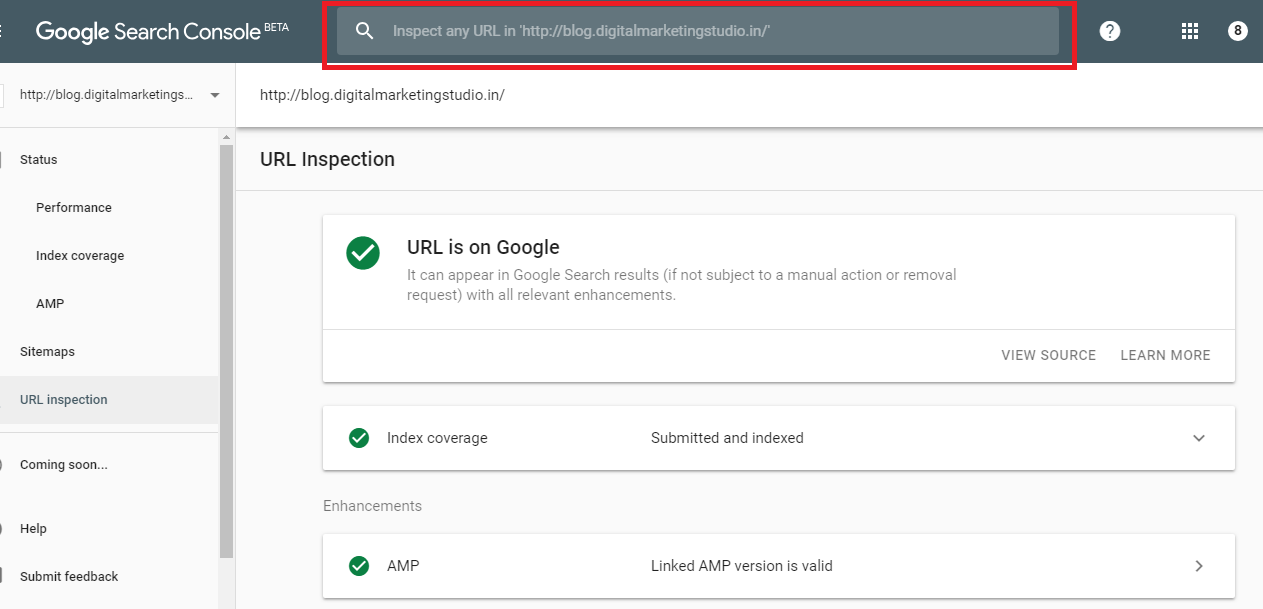 Google Search Console Update – 'URL Inspection Tool'
After Google announced on Twitter about their Search Console Update, the URL Inspection Tool is finally available for all the users. This new URL Inspection Tool was initially available only for limited users. Google's idea was to roll it out to users and work on feedback slowly. Whereas, now at the present time, the Google Search Console Update is accessible for users all over the world.
This Google Search Console Update of the URL inspection tool enables users to check the URL of the website and understand how Google search crawls the URL. This URL inspection tool gives us a detailed report about the crawl, index and other things which are essential for analytics. Essentials like last crawl date, the status of the previous crawl, crawling errors and also indexing errors can be seen in this tool. This Google Search Console Update will also update us if that particular page was successfully indexed, and also point out if there are any AMP, indexing or structured data errors.
Let's Understand URL Inspection Tool
The URL Inspection tool is here to give information regarding Google's crawl indexed report of a particular page. The report covers indexing issues, AMP errors, and structured data errors.
Making Use of The URL Inspection Tool
You can inspect the URL by entering it in the search bar in the Search Console. Here are a few things to keep in mind while inspecting the URL:
Make sure that you are using the URL of the same property. Do not forget to switch the property.
You can inspect the AMP as well as the Non-AMP URLs. You will get a detailed report concerning the type of your URL.
The URL inspection too also provides information regarding the canonical versions of the URL. If your webpage has an alternate version for language or any other purpose, don't worry Google will understand that.
Your inspection results cover the following fields:
The Presence on Google
This tab of the URL Inspection Tool will display whether your URL is present or not on Google. The possible results are mentioned below.
URL Is On Google:
This result obviously means that your URL is indexed and will surely appear in Google's search results. It also necessarily mean that the URL does not have any type of errors. The URL does not need any enhancements found in the page like structured data, linked AMP pages etc.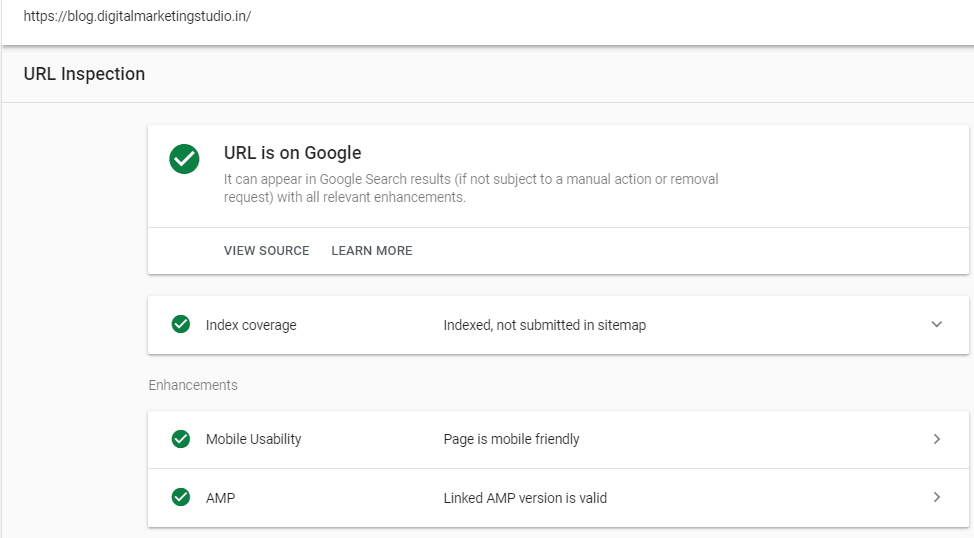 URL Is On Google But Has Issues:
This result on the URL Inspection Tool means that the URL is indexed and will appear in Google's search results. But there are some issues that may restrict the URL for showing up with all the enhancements, resulting it in low ranking and higher loading time. Thus resulting in lower page ranks and lesser engagement. This result might necessarily mean a problem which might be associated with malformed structured data or no AMP.
To solve this issue: This Google Search Console Update of URL Inspection Tool will show you all the warnings and issues associated with the webpage. You need to follow the guidelines to fix your issues.
URL is not on Google – Indexing Errors:
If the URL is not on Google, it definitely means there are Indexing Errors. It also means that there is at least one critical error which is preventing the URL from indexing. You need to fix this error in order to get your page indexed.
To solve this issue: Index coverage section in Google Search Console Update of URL Inspection Tool will show you all the indexing errors associated with the URL. You need to follow the guidelines to fix your issues.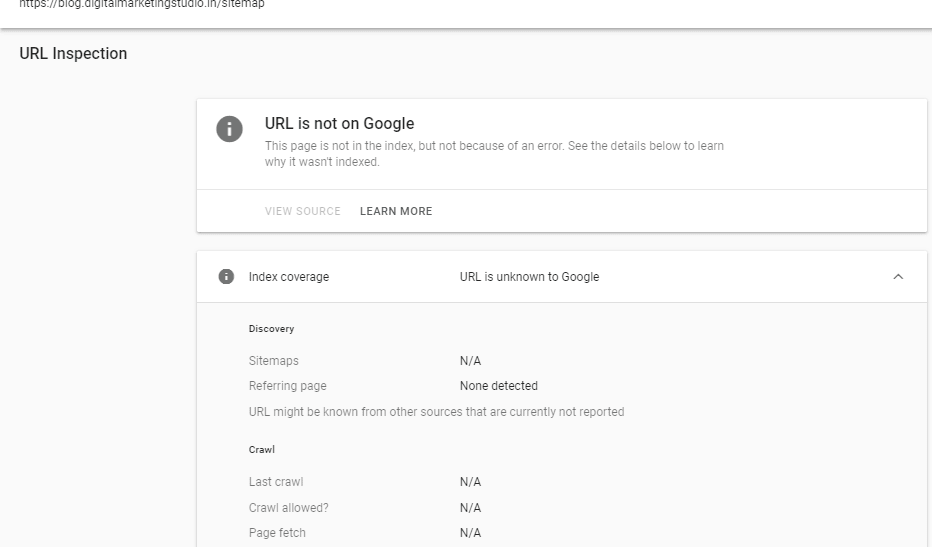 URL is an alt version:
This result means that the URL is an alternate version of a particular set of web pages. Pages in this type of group usually include AMP and canonical pairs of mobile as well as the desktop version. You can check out the indexed URL in the Google-selected canonical value under the Index Coverage section.
Index Coverage
This segment of the URL Inspection Tool in the new Google Search Console Update covers the index status of the web page and details of the indexing process for the URL. The following information is provided by URL Inspection Tool, depending on the index coverage status:
Index coverage status:
Users will see a more detailed version of the Presence of Google section in this section. It will explain the reasons why the URL is on Google or not on Google. It also shows success, failure, warning or excluded value.
Sitemaps:
The sitemaps of the URL should be in current property and should also point to the same property. There is a possibility that there might be additional sitemaps containing the same the URL that cannot be put into focus. This list is comprehensive. Another possibility is that the property might be reported as "not available," the list of sitemaps is currently unavailable. It is important to create sitemaps for Google to crawl the pages.
Referring page:
Referring page is a page that Google probably used to find the URL. The referring page may be directly linked to the URL, or it may be a parent of that page that links to this URL. If this value is absent, it does not mean that there no referring pages. It just means that the information might not be available to the URL Inspection tool at that time.
Last crawl:
This section of Google Search Console Update of URL Inspection Tool shows the last time at which the URL was crawled. This time will be shown as per your local time.
Crawl allowed:
This means whether you have allowed Google to crawl the page or you have blocked it with a robot.txt rule. If you have unintentionally blocked Google, you should remove the robots.txt block.
Page fetch:
Page Fetch necessarily means that whether or not Google could fetch your URL or not. If you haven't allowed crawling this field will be empty and will show the result as a failure. If you have allowed the crawler if means that you want the page to be fetched and reached.
User-declared canonical:
Users can declare a canonical URL in various ways: an HTTP header, a sitemap, a <link rel="canonical"> tag, or a few different ways. If your page is one of a set of same pages or alternative pages, Google recommends declaring the canonical URL explicitly.
Google-selected canonical:
Google-selected canonical is the canonical URL which Google selected while it found duplicate and similar pages on your site. If you have stated a canonical URL, it's great, that itself will be selected. But if it is not found then Google will select and create its own canonical URL or chooses some other URL which it feels is more better.
Enhancements
The Enhancement Section will throw light on following topics which can be used to make enhancements and progressions in your web pages. This section will show no information if the URL is not indexed.
AMP:
If your web page is in AMP version, you will see information regarding it by choosing AMP in the report. The user can utilize this report to find out the problems and take the necessary actions needed to counter them.
In the light of usual AMP errors, you might also see these Google-specific AMP errors.
Various rich result types:
Any Rich Results types, i.e., structured data regarding information is available in URL inspection tool with the launch of Google Search Console Update. The report encompasses the number of valid items with their descriptions and details about issues and warning about them.
Canonical URL:
If your page has an alternative version of the pages, i.e., one set of similar pages in the different languages, you can inspect with the Google's selected canonical URL by choosing the 'Inspect canonical URL.' It is necessary that the URL for inspection should be in the same property otherwise the information will not be shown.
Some More Interesting Updates in Google Search Console Update :
In addition to the launch of URL inspection tool, Google has something more to offer. Here are few more features and reports which are recently launched to the new Google Search Console Update:
Performance Report of 16 months: The Performance report of Search Analytics API will now give 16 months of data.
The Recipe Report: Fixing structured data issues which affect recipes rich results has never been this easy. The Recipe report will help you in this. Use Google's task-oriented interface to fix, test and validate your issues.
Brand New Search Appearance filters in Search Analytics: The performance report now gives you more visibility on search appearance results. New Search Appearance filters are added in Search Analytics. This includes Web Light and also Google Play Instant results.
If your is not visible in the tool, the URL inspection tool will give the detailed report of this issue. It will report you other pages affected which might be having the same problem. This will help you address and fix these bugs. Information about no index robots meta tags and Google's canonical URL for the page will also be sent.
All things considered, this Google Search Console Update of new "URL Inspection tool" will help all the users to debug issues and errors.
Keywords: Google Search Console Update, Url Inspection Tool, Digital Marketing Studio
All Comments