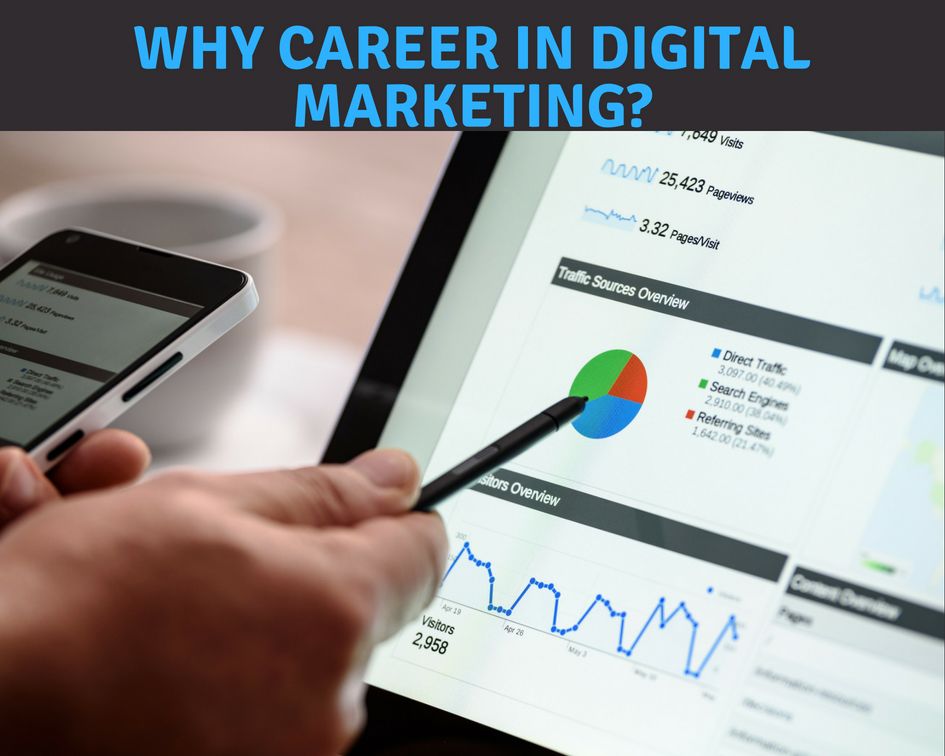 Why Career in Digital Marketing is the most Trending Option?
Everyone faces problems when they are choosing their career path. As an IT professional even I faced a number of issues while I was a fresher in industry. In amidst this situation, I came across the magic term "DIGITAL MARKETING". Today I am working in Digital Marketing industry and I am happy choosing a career in digital marketing.
Whenever I mention about Digital Marketing, there is at least one person who asks me about Why Choose a Career In Digital Marketing?
We know that creating a digital presence nowadays is need of the hour. When all other sectors are stuck with a small growth of 5 to 10 %, the digital marketing industry is booming with a 40% growth rate. The Times of India published an article, according to which over 1 Lakh jobs will be generated in the Digital Marketing sector in the year 2018.
As these things are predictable in near future, comes the need for skilled digital marketers who can help the organizations to survive in the digital world. With all these things happening around, choosing a career in Digital Marketing can be something worth considering.
Still puzzled on what digital marketing is, read further?
What is Digital Marketing?
To begin with, digital marketing is the promotion of products or brands through one or more forms of electronic media. It is different from traditional marketing which uses channels and methodologies which enables a company to analyze marketing campaigns and to understand what is working and what is not working in real time.
In other words, digital marketing, so basically, digital marketing includes managing and enhancing the online presence of the company through the company's websites, mobile apps and social media accounts and pages of that company.
Coming back to the question of the decade, let's discuss Why choose a career in digital marketing? Also let's find out, what is the digital marketing career scope.
When you think about a career in digital marketing, it has plenty of room for professionals from all the backgrounds. Also, there are many others factors why a career in digital marketing is the career of the 21st century. Read Below to know more…
The 'Salary' Factor
A trained entrance level digital marketing expert can easily earn Rs.15,000/month to 18,000/month. People get highly paid with just 2-5 years of experience. They can easily earn 3 to 10 lakh per annum. These are the results on popular job sites. Definitely, this is one of the prime reasons why most people are choosing their career in digital marketing.
Open for candidates from any professional background
As I mentioned earlier, if you are selecting a career in digital marketing, this field will welcome you with an open heart. You don't need to be from any specific professional background. There is room for everyone. Eventually, creating more opportunities.
Growing Internet users in India
Do you know? Ranked after China, India is the second largest online market, with over 460 million internet users. In due time, the assumption is that by 2021, there will be about 635.8 million internet users in India. Despite the broad base of internet users in India, only 26 % of the Indian population accessed the internet in 2015. Today, there are nearly 500 million internet users out of which 80%, i.e., 400 Million users who access the internet through mobile. Undoubtedly, the number of jobs in this industry are bound to increase giving a chance number of professionals to take up a career in digital marketing.
Crores spend on Digital marketing
At present, Digital marketing is getting popular because of which there is a growth in revenue spent. There is an average growth of 11% in it. According to a recent report, the investment in Digital Marketing is enormous. Forrester says, by 2021, the U.S alone will to spend up to $120B in Digital marketing. Obviously, there will be a number of opportunities if you opt for a career in digital marketing.
The Industry is Always Evolving
Digital marketing is a field that's ever-changing and engaging. There's always something new to learn. If you work in a company, you'll always be working with different clients, on different projects, which means you will get to learn something new every day. As you will be working with a variety of specialists, you'll likely be working alongside professionals from a variety of backgrounds.
A chance to show your creativity
If truly you are selecting a career in digital marketing, this field will give you a number of chances to explore your creativity. There are a number of opportunities for creatives to do their thing in writing, design and even video and audio production. There's also plenty of room for day-to-day creativity in a general sense. You'll always be having to think of new ways to market products, solve problems, and engage audiences.
Choose what sector interests you
Digital marketing is a vast industry, and a lot is going on under one umbrella. You can hold a number of roles in digital marketing for a wide variety of dispositions and skills. For instance, you have diverse job opportunities as follows:
Digital Marketing Manager
Search Engine Optimizer (SEO Executive)
Social Media Marketing Expert
Content Marketing Manager
Copywriter
Search Engine Marketer/ Specialist
Inbound Marketing Manager
Conversion Rate Optimizer
Isn't it always great to have more to choose from?
For these reasons, building a career in digital marketing can be the best option.
If you have any more questions about why a career in digital marketing is the best option you can leave your questions below.
Keywords: career in digital marketing, digital marketing career scope, Digital Marketing Studio
All Comments