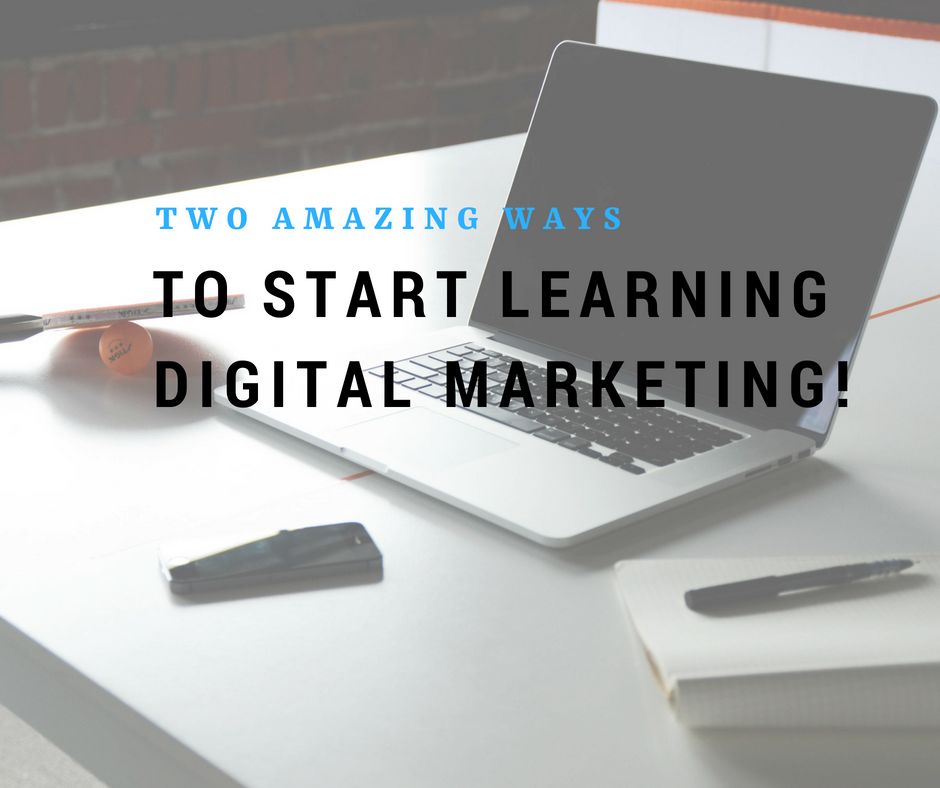 Want to Learn Digital Marketing? Two amazing ways to start learning
Nowadays, most of the people, especially the young generation of professionals, is searching for 'How Can I learn Digital Marketing?' Do you want to learn what Digital Marketing is?
Digital Marketing industry is growing at rapid pace. The number of internet users is increasing not in urban areas but also in rural areas.
It's the need of the hour to learn Digital Marketing and implement it.
Digital Marketing industry is worth $68 billion. When all other sectors are stuck with a small growth of 5 to 10 percent, the digital marketing industry is booming with 40% growth rate.
WHY LEARN DIGITAL MARKETING?
Do you know the average salary for a Digital Marketing Manager is approximately Rs 410,500 per year?
Undoubtedly, if you learn Digital Marketing, you will have a promising career. Moreover, Digital Marketing is a vast field ranging from graphic designing to web development to content creation to creative socialization.
Therefore, it is essential to know how are you going to learn Digital Marketing. Keep reading to know more.
How to Learn Digital Marketing?
When you think about Digital Marketing, the first thing that comes to your mind is " How and where to learn digital marketing?" I will give you the solution in this blog.
There are two ways to learn Digital Marketing depending upon your needs, knowledge expanse, and resources available.
You can either opt for any of the following ways:
Self-learning
SELF LEARNING
If you choose to learn digital marketing by yourself, here's how you can progress:
1. Blogs on Digital Marketing
Digital Marketing is ever-evolving, and to be up to date; you need to follow digital marketing blogs. Some popular blogs are listed below for your reference.
2. Digital Marketing Slideshows & Infographics
Are you one of them who find it easy to know through visual presentations?
Digital marketing slides and infographics is another excellent way to learn about the what, why, and how of Digital Marketing. There are many slideshows and infographics available on the internet.
3. Books on Digital Marketing
Its rightly said that "Books are our best friends." Journals and books are the best methods to learn digital marketing. Reading and learning from the best digital marketing books will expand your knowledge.
Some of the popular digital marketing books are:
1. You're My Favorite Client by Mike Monteiro
2. The Power of Visual Storytelling by Ekaterina Walter
3. Global Content Marketing by Pam Didner
4. The Big Data-Driven Business by Russell Glass
5. All Marketers Are Liars by Seth Godin
4. Videos on Digital Marketing
After books on digital marketing, the second most ideal method are videos to learn digital marketing. These videos are free as well as paid ones. You can select any of them. When you learn online marketing, it is necessary to know minds in the digital industry. There are some digital marketing experts you publish their videos on a regular basis.
Also, Google provides online courses with modules covering an introduction to Digital Marketing, search, analytics, mobile, social, and display advertising.
5. Free Digital Marketing Courses
There are multiple online courses available where you can learn digital marketing for free (or paid). Here are few digital marketing courses for free that you can take up to learn digital marketing.
a. Google Online Marketing Challenge
About 100,000+ people from 100+ countries participated in Google's Online Marketing Challenge. It is an online course to learn about digital marketing. The modules cover an introduction to Digital Marketing, search advertising, search engine marketing. Also, video, analytics, social, mobile, and display advertising, making it one of the most comprehensive and carefully scripted course for newbies.
b. Moz's SEO Training Course
This course is one of the best courses for those who need an elementary introduction to the world of search engine optimization.
This course does a fine job of explaining different components of SEO for beginners have no practical knowledge.
c. WordStream's PPC University
It is a free online learning source designed by WordStream, to help beginners learn digital marketing skills and PPC techniques. Another key point is that this digital marketing course is mobile-friendly. Hence, you can learn digital marketing whenever you have time.
d. Social Media Quickstarter Digital Marketing Course
Social Media Quickstarter brought to you by Constant Contact highlights chances to integrate email with social media marketing. This course also provides detailed lessons where beginners to study digital marketing tactics for Google+, Pinterest, YouTube, Twitter, Facebook, LinkedIn, online listings, review, and blogging sites.
DIGITAL MARKETING COURSES
In the first place, the self-learning concept might seem attractive to you. Obviously, you don't have to invest much money, and you have flexible time schedules to take your learning session.
If you decide to learn Digital Marketing from the career perspective, then you must visit a leading Digital Marketing Institute and have expert guidance with right certifications.
To summarize, both the ways are good to go, but you need to align your take with your goals. In brief, particulars are given below to help you out:
If you learn by yourself:

There will be minimum or no funds investment.
But you will have to invest a lot of time in finding the best information for you.
Since you are a newbie, with very less or no knowledge of Digital Marketing at all, it would be difficult for you to judge from where to study according to your goals.

If you go for experts:

Firstly, you will have to invest some money. But you will get a proper guidance. Also, you will get hands-on and practical knowledge of Digital Marketing. With expert guidance, you will have a sturdy foundation since experts will be there to guide you at each step.
Keywords: learn digital marketing, learn digital marketing course,what is digital marketing
All Comments